We are Ruka
We've experienced centuries of the hair industry being dictated and driven by people 
who don't look like us or understand our needs.
 Now, not every solution needs to be created by the person who experiences the problem. However, curly, coily and wavy hair has such unique properties both collectively and individually. Each of these unique properties make it extremely difficult to truly understand what Black women and those with these hair types needlessly go through every single day.
This is why Ruka is a black-women owned business.
Because we get it.
We know what it feels like to have to make do because it doesn't seem like what's out there is created for you. And that's exactly why we have decided to make the outsiders our insiders, by creating a company that truly puts Black women at the centre and innovates around their needs. We've put together a team that's as passionate about this problem as we are. We're here, we're listening and we aren't stopping until Ruka is on your shelf - so we think we're onto a winner.
Meet the Team
Marcus Thomas

Digital Experience Analyst

Nneka Johnson

Customer Experience Manager
Co-Founder story: Ugo
— the transitioner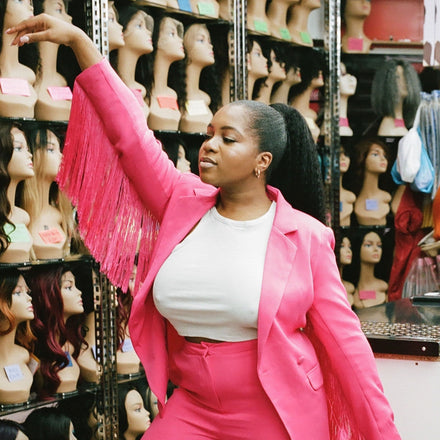 Most of my friends know me as being beauty-obsessed. I still remember my first eyeshadow palette from Claire's (it was DUSTY), and what it felt like to learn the colours, lines and angles that best suited my face. It was a process, but now I know my go-to eyeshadow shape and I can buy a full set of complexion products just from the description online. I went on a similarly explorative journey with skincare more recently, where through trial and triumph I've figured out a concoction of skincare ingredients that makes my melanin pop off.
With that in mind, it made me feel weird, kind of guilty even, when I realised I never really got to know my natural hair in the same fun, explorative, "life's a process" kind of way. I barely gave it a chance.
And though I know it's not totally my fault (looking at you, colonial history) this journey with Ruka has pushed me to dig deep and understand why this may have been the case.

I was born and raised in South (aka Saaaafff) London. Growing up, my mum put in work to make sure my long, thick, tightly kinky hair was taken care of. She would take me to the salon (s/o the now defunct Titilayo in Catford), where the entire experience would be traumatic from start to finish. The lady would need to be convinced to touch my hair. Then she would pull and tug on it like it was rope, leading me to cry and plead for the whole thing to stop. Then when it was over, she would overcharge my Mum because "by now you should know her hair is too tough". This exact exchange would happen all over London, AND even back home in Nigeria. When I turned 16 it was time to take the reins over my own body choices, and the very first one I made was to "texturise" my hair.
Ugo, aged 2, with her Dad in Lagos, Nigeria, Ugo and her brother Jamie, aged 3 and 5 in South London, UK, 2021
Ironically, this chemical process which I thought would make me totally carefree forced me to learn and understand my hair like never before - except now I was learning about how to deal with the breakage, scalp dryness and thinning that was happening. It sucked. My hair continued to break despite spending my humble part-time tutoring income on hair treatments. Once I got to Uni, I decided to transition out the texturiser. Having what felt like 4+ different textures in my hair came with it's own challenges, but I was just so incredibly grateful to welcome back my curls and coils as they came.

I'm passionate about Ruka because I really believe that we can bring the joy back to black women as they explore their hair, from the very start. We're building the brand that my Mum couldn't share with me to inspire me to hold onto my coils - the brand that I hope future grandmothers use on their daughters' daughters. We're doing this by developing products that actually work for us, delivering education in an accessible, judgement-free way and putting our incredible community at the heart of everything we create.
Co-Founder's story: Tendai
— the lazy natural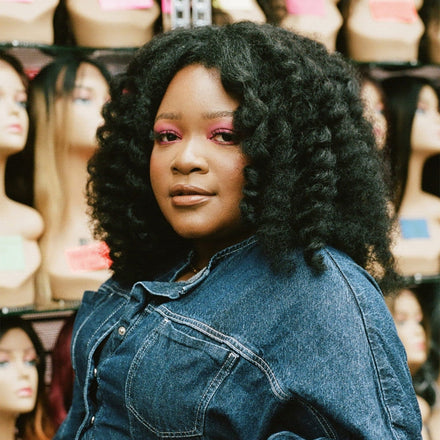 I've always been that person who has grand visions and 0 patience to successfully execute on them. It's why once I find a style that works for me, it'll be part of my regular rotation of styles for a good couple of years. I was born in Harare, Zimbabwe - a country rich with culture, a beautiful landscape (have you seen Victoria Falls! ) and wonderful traditions. In post-colonial Zimbabwe, like many other countries, the idea of the Western-beauty standard can sadly be seen in everything from hair to skin. For most girls and women, the aim was to get your hair as straight as possible. I grew up being told that I had lovely 'thick' hair, which meant that even when it got relaxed it maintained a lot of volume. In fact, relaxer never actually worked on my hair.
Tendai, aged 4, with her Grandma and cousin, in Zvishavane, Zimbabwe, Tendai, aged 9, with her sister Paida in Swindon, UK, 2020
Even when I moved to the UK as a young girl, what that meant was extra 'baking' time, leading to several occasions where I burnt myself and one particularly traumatic experience where I feared the hair relaxer wouldn't come out. Simultaneously, it also meant that whenever people braided my hair, they'd try and charge me for having too much hair and a big hard (second part is kind of hard to argue with to be honest). I stopped relaxing my hair out of sheer laziness in 2015. I can't really pretend I had a great epiphany about it and I wasn't deep enough in the natural hair community to be that radical. I honestly just couldn't be bothered anymore and so I transitioned slowly to being a natural. What grew out of that was magical, but a complete surprise. I started to fall in love with the curls of my hair. I learnt new ways to look after my hair that made me realise that my hair wasn't 'too difficult to manage' after all. My hair became another way to explore who I was, and I remember feeling quite sad that I hadn't started that journey sooner. 
In post-colonial Zimbabwe, like many other countries, the idea of the Western beauty standard can sadly be seen in everything from hair to skin. For most girls and women, the aim was to get your hair as straight as possible.
Where I'm at now is really a place of love, growth and acceptance. I want us as Black women to have the choice to do what we want with our hair and to promote healthy hair above everything. How we do that is by creating a range of products that truly work for Black women, whilst bringing in the versatility and choice that makes our hair the amazing wonder it always has been. That's why I believe in Ruka.